Venue
The CLEF-2016 conference will be held at "Colégio do Espírito Santo", University of Évora, Portugal, 5-8 September 2016, in the main auditorium, which is marked on the map below.
GPS: 38.573264 / -7.903917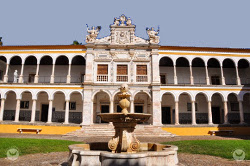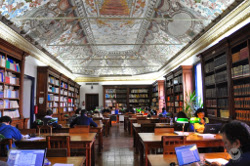 The Colégio do Espírito Santo is a monument full of history and details of great interest. It is a Jesuit inspired building, which was founded in the sixteenth century. The main cloister's classrooms are decorated with baroque tiles, alluding to subjects that were taught there, at that time. In the library's ancient room, we can find a ceiling painted in the early 18th century.
Travel information
Évora is located 130 km southeast of Lisbon, and 100 km west from the border with Spain. The main Portuguese cities have connections to Evora by bus. For Lisbon there are also trains, but buses are more frequent.
by airplane - TAP Portugal has agreed to offer a discount to CLEF2016 participants who make their flight booking and buy their ticket exclusively through flytap.com. See instructions and CLEF2016 discount code here.
Lisbon Airport receives flights from major airlines operating in Europe, including low cost ones. After arriving, you can go by metro or taxi to Sete Rios bus/train station or Estação do Oriente train station, and in less than two hours you reach Évora.
by car

from Lisbon - Take the A12 motorway in the direction of Spain, and later change to A6 motorway in the direction of Évora. (1h30m-1h45m; detail)
from Spain - Take the E-90/A6 from Badajoz in the direction of Évora. (1h10m)

by bus - Évora has direct bus connections with several cities, including Lisbon, and tickets can be bought online or on site (see Rede-Expressos). If you are coming from Lisbon airport, you must go to Sete Rios bus station. You can check the bus timetables here; each ticket costs about €12.5. To get from Lisbon airport to "Sete Rios" bus station you can use Aerobus (circuit 2: Airport to Sete Rios), Metro or taxi.
by train - There are four daily connections, in the Intercidades, from the Estação do Oriente train station, in Parque das Nações, Lisbon, to Évora, taking an hour and a half. More information here.
on arrival to Évora - Upon arrival by public transport, you can go (from both stations) to the city center in 15 minutes' walk. There are taxis and city buses outside the station.
Visa information
The Schengen area is composed by the following countries: Austria, Belgium, Denmark, Slovakia, Slovenia, Estonia, Finland, France, Germany, Greece, Hungary, Iceland, Italy, Latvia, Liechtenstein, Lithuania, Luxembourg, Malta, Norway, Czech Republic, Netherlands, Poland, Portugal, Spain, Sweden and Switzerland. In order to transpose the external borders of the Schengen area, according to the current Legislation (Visa Code), the citizens of the
following nationalities
need a Visa, which may be requested at the Portuguese Embassy or Consulate of their country.
Citizens of the European Union, Bulgaria, Cyprus, Iceland, Liechtenstein, Norway, Romania and Switzerland need only an identity card to enter in Portugal. In addition to their identity card, minors must also present authorisation from their parents to travel.
If you belong to a different country, check if you need a visa for Portugal,
searching here
for your area of origin (see the column "
Do I need a national visa?
").
You will find all the detailed information in the following websites: